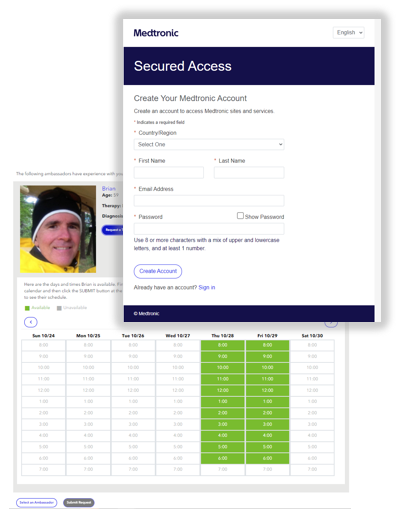 Welcome to the Medtronic Nurse Program
Please begin the account registration process to talk with a Nurse.
You will create a Medtronic username and password
Tell us a little bit about yourself
Choose an appointment time
You may also call 1-800-503-4110 to speak with a support specialist and book your appointment.
Pain ambassadors are not medical experts or employees of Medtronic. Registered nurses are paid consultants of Medtronic. Not everyone who receives Medtronic therapies for chronic pain will experience the same results; every patient experience is unique. Talk to your doctor about the option that is best for you. If you have a Medtronic product and need technical support, please call 1-800-510-6735.
Your discussion with an ambassador is meant to be a one-on-one conversation with an actual pain therapy patient. The ambassadors are instructed not to disclose any information about you to Medtronic or anyone else, but Medtronic cannot guarantee this will not happen. Therefore, please do not share any personal information about yourself with the ambassador unless you wish to do so. Medtronic will not participate in or monitor your conversation with an ambassador. The ambassadors are not employees of Medtronic, and Medtronic does not control what they may say to you. For these reasons, Medtronic is not responsible for any statements the ambassadors make. Medtronic encourages you to carefully review the information about Pain Therapies, and to discuss the therapies with your doctor.
We reserve the right to end the Ambassador Program at any time. You may request literature about Medtronic pain therapies from your healthcare provider or by visiting Medtronic.com/pain. We encourage you to carefully review the information on the website and to discuss therapy options with your doctor.